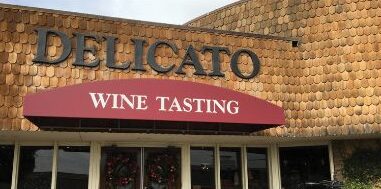 2023 Holiday Hours
Closed Memorial Day
Closed Independence Day
Closed Labor Day
Closed Thanksgiving
Christmas Eve: 9am – 4pm
Closed Christmas Day
News Years Eve: 9am – 4pm
Closed New Years Day
Seated wine tasting is available starting at 9am with last tasting at 4pm. Reservations are not required but suggested. To reserve your table, click the Book Now blue box at the bottom of this page or call the Tasting Room at 209-824-3501. We look forward to seeing you soon!
Delicato is located at 12001 South Highway 99 at exit #246. The Tasting Room is open 7 days each week from 9am – 5:30pm for purchases and wine tasting. For your convenience, curbside service with street parking is still available. To place an order, call 209-824-3501 or order from this website using the pick-up option and your wine will be brought directly to your car.
Delicato Family Wines produces a portfolio of premium wines from a selection of the most desirable vineyards in California. Grapes are harvested from Napa, Lodi, Monterey and Sonoma to craft wines that express the diversity of these appellations. With a passion for excellence, Delicato Family Wines has all the ingredients to produce an amazing range of wine styles and varietals. Saluti!
4-17-23

By entering the Delicato Tasting Room website, you confirm that you are of age to legally enjoy wine.
© 2023 DELICATO TASTING ROOM